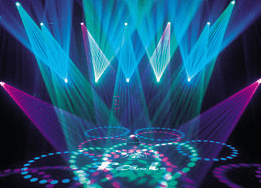 F.A.L. was founded in 1983. This was also the year of the very first SIB exhibition, and F.A.L. was there. Most of the lighting effects at that time were either motorised effects like the Lunar "cosmos" balls or par lighting based.
F.A.L. started to apply increased usage of electronics in products such as the classic Alligator and Millefiori beam effects projectors. In an innovative move, F.A.L. also released a product called the Polifemus, a motorised yoke par system, this was one of the first forerunners of the moving head lighting so popular today.
New production techniques and machinery meant that all F.A.L. products could be updated in new, stylish modern housings.
Over the last few years F.A.L. has invested enormous resources, not only in research but also in the latest equipment and machinery. In this way they are always ready to meet whatever the market demands and can do this with dynamism and quality.
Their products range includes intelligent, architectural and stage lighting. From the follow spots to the moving heads, from the outdoor to the indoor colour changer; to all phases of production processes are applied the quality standards of ISO 9001 certification.
The results of F.A.L.'s continuous updating and creation are present in their latest innovations.
Just enter in the world of F.A.L. lighting and discover today their plans for tomorrow.